The Senior Suit Alpha 3 does not only deliver a most impressive simulation, it also offers exceptional durability. Because of our participation in many events and workshops, and because of our renting activities, we know very well which element of an age simulation suit has to bear what stress. However, creating our own elements instead of taking them off the shelf always means a lot of work. Nevertheless, with our new Alpha 3 we now offer a specialized goggle in a robust box, more effective and more stable ear pieces and a better cervical bandage. And, in parallel to the improvements, we managed to reduce the production costs, so that we can also offer the product at a lowered price.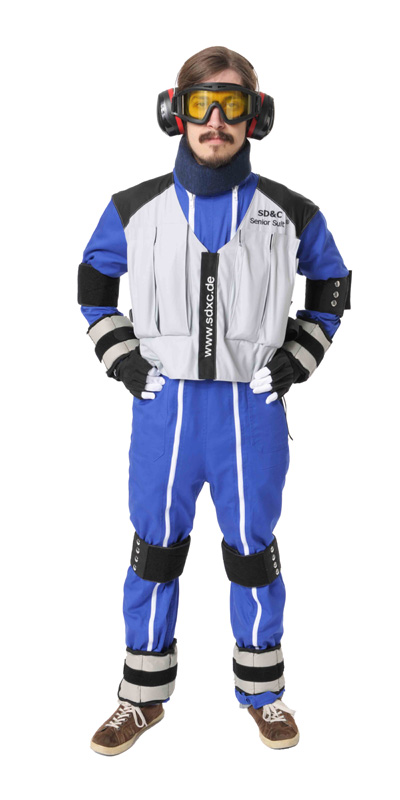 Renting age suits all over Europe is not easy, as the logistic situation is rather different from place to place. To be honest, organizing the pick-up of one of our age suits from a place with a different language some thousand kilometers away is quite a challenge. But we love it.
The normal renting period is only two days, but together with the transport times, an age suit rented to a location in Europe is away for one to two weeks. Mostly there is no delivery over the weekends or fees are extremely high, and then different holidays in the different countries have to be taken into consideration. We also experienced labor strikes on the way.
Nevertheless, so far we have always been successful, although often enough a lot of phone calls were necessary. Only once there was a secretary who went into a vacation after renting an age suit from us for her company, and then her backup did not even know what an old age simulation suit is. On another occasion we could talk someone out of having us pick up an age suit from his private living room while away, where he wanted to leave a garden side door open for us.
Transporting 20 kg of weight is by itself not an easy task. If a case including the age suit falls from some height during handling, the load inside has to take quite a push. As a matter of fact, our first packages were getting several problems. But now we have a specialized transport case, as every customer will recognize easily.
All age simulation suits going out from us go through a detailed quality control process. Completeness, cleanliness, and function are checked. And this twice, once when arriving, once when going out.