About SD&C and the history of old age simulation
The first age simulation took place in a geriatric clinic in Germany around 1970. It consisted in putting on glasses creamed with vaseline before the eyes of students of medicine, putting on weights on the arms, and rubber bands between the legs. This way they were supposed to get an impression about what it means to be old and ill.
Between 1992 and 2002 the founder of SD&C, Dr. Schoeffel, was working at Siemens, where he was investigating the functional limitations of elderly persons when using household appliances. The aim was to design appliances that older persons could use equally well as younger persons. The use of an old age simulation suit instead of the usability tests with real test persons seemed to be a fast way for a first analysis and costing much less. Thus, in 1999 Dr. Schoeffel took the idea of age simulation away from the simulation of geriatric illnesses and changed it for the the simulation of the normal functional deteriorations during the process of human aging. Together with the university of Kiel he initiated a doctoral thesis on biomechanics for one of his post graduate students, testing the components of an age suit as a method of simulation for reliability and validity. The results were positive.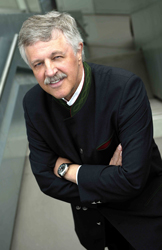 Dr. Schoeffel has presented the results of his studies in several scientific papers and on several international conferences, he holds several patents and has written several guidelines for the design of products suiting the elderly. One important result was that a design suiting the needs of the elderly is possible up to a rather high age and such a design helps the younger ones as well. Between the years 2000 and 2005 Dr. Schoeffel's guidelines have become the basis for an ISO standard, which now offers a worldwide metric for the design of easy to operate machinery, an addition to the design requirements for universal and barrier-free design especially meant for senior citizens.
Starting in 2003, SD&C has begun to use age suits to sensitize the general public for the problems of the elderly and to sensitize the management of organizations regarding the design of products suiting the needs of senior citizens. Today, the experience from thousands of trials with age suits since then are used in the development of the new SD&C age suit models. And SD&C is still working hard to win politics to respect the needs of elderly citizens by requiring by law, that any product design for the public has to be usable by the senior citizens as well. For more infos about the history of SD&C including documents and movies see the company's facebook page